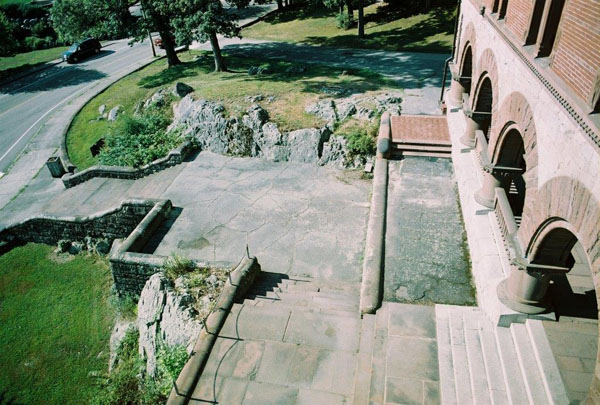 On February 28th, in this space, we published a post … for which the approach of spring was cited as a motivator … about advice that Frederick Law Olmsted – the "Father of American Landscape Architecture" – might offer to gardeners and landscapers, across many levels of experience, seriousness, and dedication.
Of course, Frederick Law Olmsted – sometimes called "F.L.O." – designed the grounds on which sits, in North Easton Village, Oakes Ames Memorial Hall, and also the terraced steps that lead from the street to the balustrade of the hall.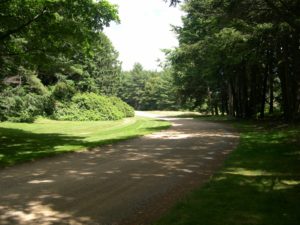 Oakes Ames Memorial Hall was designed by Henry Hobson "H.H." Richardson – who, along with Frank Lloyd Wright and Louis Sullivan constitute the "Trinity of American Architects."
There are other places in North Easton Village where are found in the integration of the creative genius of Mr. Olmsted and Mr. Richardson.
While Oakes Ames Memorial Hall, the building, is rightfully, and as intended, the star and main attraction of the property, F.L.O.'s artistry is also a reason that the hall is one of the preferred special events and function venues in Metropolitan Boston.
Now that spring is here we thought it be of interest to take a look at a primary aspect of the thinking of Frederick Law Olmsted on the role of plants … whether introduced or already present and incorporated … in his landscapes and plans.
This aspect is about the nature of "green."
For, while Mr. Olmsted surely incorporated colorful flowers into his landscapes, he did so very sparingly.   Variations of green, as in that transmitted in leaves of deciduous and semi-deciduous trees … and evergreen shrubs and pine trees … were the colors he most favored and employed.
Indeed, consider this excerpt from a story, titled, "Planning Your Landscape Design:  20 Important Things to Consider," published in the Old Farmer's Almanac – and in which F.L.O. is generously referenced:
"Olmsted biographer Witold Rybczynski says that 'Olmsted actually disliked flowers. His idea of a landscape was really shades of green.'"
Please click here to be taken to the full story.
A species of tree that F.L.O. particularly liked was the American elm.
Actually, as explained in a National Park Service press release, the name Olmsted is a variation of "Elmsted" an English descriptor for "place of the elms."
In his designs, Mr. Olmsted employed and worked with elm trees standing alone or in tight groups.  And he valued the shroud and canopies that both elm tree branches full of green leaves – as well as those that the spires of elm tree bare branches – provided.
But when it came to plants for Mr. Olmsted, no doubt it was first and foremost green.
If you have the opportunity to visit a Frederick Law Olmsted landscape, whether in North Easton Village, or anywhere, make sure to take note of how "green" helps paint the picture and deliver beauty.