The Rockery; view from north side of the property
Oakes Ames Memorial Hall is an architectural and design treasure – a component and keystone property in the H.H. Richardson Historic District of North Easton, a National Historic Landmarks space.
(Construction on Oakes Ames Memorial Hall began in 1879 and concluded in 1881.)
The H.H. Richardson Historic District is contained within the North Easton Historic District, which is listed on the National Register of Historic Places.
Henry Hobson Richardson – H.H. Richardson for the short form – was a luminary architect of the Gilded Age, and continues to rank among the most esteemed U.S. architects of all time.
The H.H. Richardson Historic District is comprised of five buildings Mr. Richardson designed:  Oakes Ames Memorial Hall, Ames Free Library, Old Colony Railroad Station, Ames Gate Lodge,  and the F.L. Ames Gardener's Cottage.
Today, of course, Oakes Ames Memorial Hall is one of the premier special events and meetings places in metropolitan Boston.
While the building, itself, is an American masterpiece – what contributes, in a profound and dramatic way to its majesty, is that it is set on land planned and designed by Frederick Law Olmsted, widely and long called "The Father of American Landscape Architecture."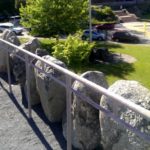 This Memorial Day Weekend, and on Memorial Day, Oakes Ames Memorial Hall Association – the caretaker and administrator of Oakes Ames Memorial Hall – commends people's attention and thoughts to another Frederick Law Olmsted property – The Rockery, also called the Memorial Cairn.
Built in 1882, The Rockery – which holds a place with the most beautiful memorials and tributes to those who fell in defense of our republic – is located across the street from Oakes Ames Memorial Hall.  It is a Civil War memorial.
Specifically remembered and honored in The Rockery, with stones set perpendicularly along the edge and crest of the structure, are the men from Easton who died to preserve the Union.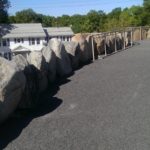 Easton paid a terrible price in the conflict, for there are 47 of these stones, one for each son of Easton who perished.
The Rockery – as Olmsted intended – is a sweep and rise and fortress like assembly of stones, which describes war – and from which grow and spring trees, flowers, vines, and shrubbery, which describe and attest to a victory of life and peace over martial conflict.
It is a powerful … and important … statement – The Rockery.
On any visit to Easton … any visit to Oakes Ames Memorial Hall … wholly warranted is taking time at The Rockery – taking time to reflect, and taking time to be grateful.