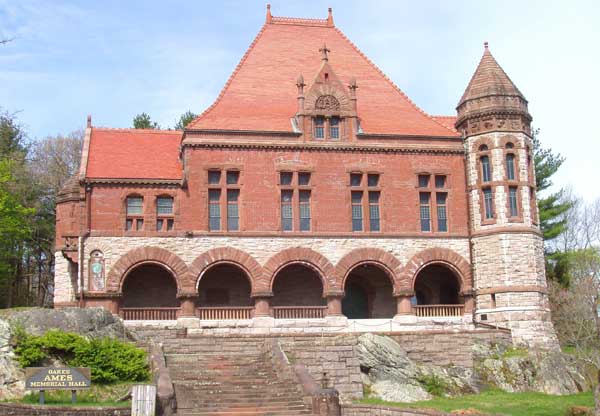 (This post, originally published on October 19, 2016, was amended on October 20, 2016.)
Oakes Ames Memorial Hall is one of the most magnificent … indeed it is awe-inspiring … properties in America.
The hall is named for Oakes Ames (1804-1873), a scion of the Ames family of Easton – American aristocracy, industrialists, philanthropists, and political and civic leaders.
Oakes Ames, along with his brother, Oliver, Jr., became an owner in the family's shovel-making company.  Oakes Ames served in the U.S. House of Representatives, and while in Congress, on the urging of Pres. Abraham Lincoln, took a leadership role in the building of the Union Pacific portion of the transcontinental railroad.
Actually, both Oakes and Oliver, Jr., played instrumental and highly valuable roles in the completion of the transcontinental railroad.
Not long after Oakes Ames died, in the late 1870s, his children, Oakes Angier Ames (1829-1899) and Oliver Ames (1831-1895), recruited and signed on two luminary architects of the Gilded Age – Henry Hobson "H.H." Richardson and Frederick Law Olmsted (sometimes called F.L.O.) – to design a memorial in honor of their father.
H.H. Richardson, who, along with Louis Sullivan and Frank Lloyd Wright, constitute the "Trinity of American Architecture," designed the "Richardsonian Romanesque" (yes, a style named for Mr. Richardson) building.
F.L.O, widely regarded as the Father of American Landscape Architecture, planned the grounds on which the building sits, and the stone staircase that leads from the street up to and connects with the hall.
Construction on Oakes Ames Memorial Hall commenced in 1879 and was completed in 1881.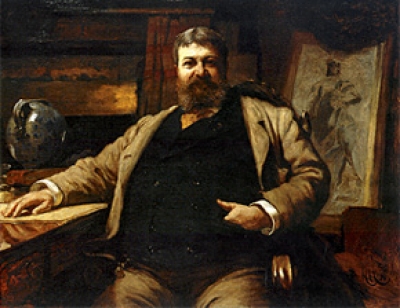 Please click here to be taken to a post in this space in which, discussed, is Oakes Ames and the dedication of the hall which took place on November 17, 1881.
Beyond its striking building architecture and landscaping, what makes Oakes Ames Memorial Hall among the highest preferred and favored special event venues in Metropolitan Boston and Southern New England is that it is located about equidistant between Boston and Providence, approximately 30 miles from each city.
And to get back to that architecture and design element, we dare say that there is something specific about the style, the ornate detail, the "awesome" character, and the grandeur of Oakes Ames Memorial Hall that renders it especially party and good-time certified.
We also venture to attest – and let's just take the example here of H.H. Richardson – his architectural style, which contains the Richardsonian Romanesque school he founded, powerfully exemplifies … to use that term again … the Gilded Age.
The Gilded Age – which ran, roughly, from the late 1870s to 1900 – was an era in which America was coming into its own, growing faster economically than Europe … which resulted in millions of Europeans immigrating to the U.S. … and fortunes being made, and holders of those fortunes spending the money extravagantly and conspicuously.
Fortunes built estates, monuments, and parks.
Fortunes built tributes and memorials like Oakes Ames Memorial Hall.
Answering the call to plan and design these places were brilliant and creative minds like H.H. Richardson and F.L.O.
As well, Gilded Age money paid for parties, blowouts, soirees, and balls for the ages.
To avail yourself of a peek at, and insight into, Gilded Age parties – albeit those held in New York City – please click here to be taken to a Gotham magazine story (published May 15, 2015), titled, "What It Was Like to Attend Mrs. Astor's Gilded Age Parties," written by Rachel Torgerson.
We know that H.H. Richardson, who weighed in at more than 300 lbs., enjoyed partying and imbibing, and having a great time, with those great times including  socializing with many of the barons who were his patrons.
Mr. Richardson died young, at 47 (from kidney disease), and financially broke.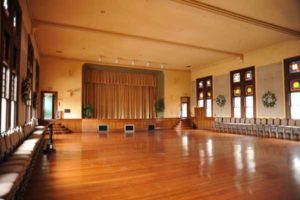 But as H.H. Richardson's great-granddaughter, Alison Richardson, a distinguished landscape architect, explained, her great-grandfather had a fun life, and enjoyed himself immensely.
Ms. Richardson is a principal in the Boston landscape architecture and planning firm Brown, Richardson + Rowe.
""I think he was incredibly likable, slightly manic, the life of the party," said Ms. Richardson, of her great-grandfather, in a January 8, 20004 Boston Globe story on her lead role in designing and planning parks contained within areas of the Big Dig project.
Please click here to be taken to the story, titled, "Park architect has a unique perspective," written by Carol Stocker.
Genius – matched with and immense expenditure and capacity for work – results in historic accomplishment, and enduring influence.
Oakes Ames Memorial Hall is a powerful and beautiful celebration – told in the story of, and clothed in, the Gilded Age – of that accomplishment and influence.
Oakes Ames Memorial Hall … the place, the property … fully and wholly befits a place where to hold the happiest and most special of events, and which serves as a fount for the happiest and most special of memories.