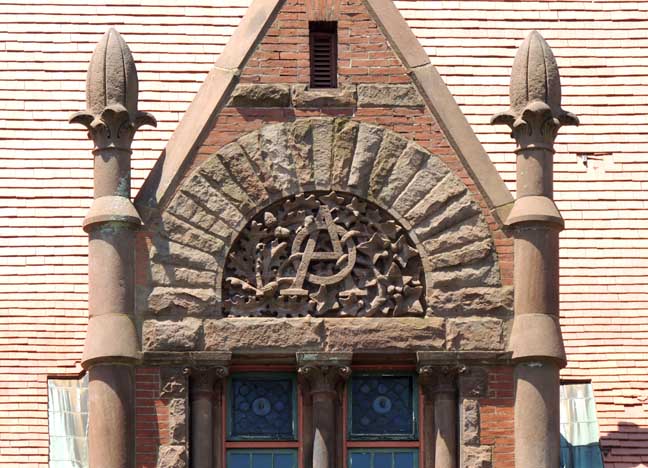 Please take a look at this photo.  Please look closely at this photo.
We will get to that photo in a moment.
The Oakes Ames Memorial Hall Association has used this space to describe and discuss specifics and particulars of the design method, attributes, and style of Henry Hobson Richardson (often called H.H. Richardson) – who designed the hall itself – and of Frederick Law Olmsted (sometimes referred to F.L.O.), who designed the grounds of the property.
Yes, Oakes Ames Memorial Hall, one of the grandest and most magnificent properties and special events spaces to be found anywhere in America is the result of an epic collaboration of genius between H.H. Richardson – who, along with Frank Lloyd Wright and Louis Sullivan constitutes the Trinity of American Architects – and F.L.O., widely renowned as the Father of American Landscape Architecture.
Now for that photo.
It is a photo of the attic dormer of Oakes Ames Memorial Hall.
(Behind that dormer … behind that stone … behind that stained glass … lies the beautifully appointed and detailed Masonic Room.   In this room, for many years, met – from 1881 through 1960 – the Paul Dean Free & Accepted Masons Lodge.)
The photo of the dormer nicely isolates a design element that is found across almost all of Mr.  Richardson's works – at least those works which involves stone – and that element is polychromy.
Polychromy is the technique of decorating with a variety of colors.
H.H. Richardson was into polychromy – in a major way.  Indeed, it can be accurately said that a scheme of integrated stonework in which is represented multiple colors is as widely and commonly identified with a Richardson building as are magnificent arches, with these arches created in the Richardsonian Romanesque style that Mr. Richardson founded.
In Oakes Ames Memorial Hall attic dormer, polychromy is affected and manifest in the combination of reddish brown Longmeadow brownstone and light brown granite (extracted from a small quarry in North Easton Village, off of Barrows Street, right around where now is Frothingham Hall), with the granite showing, very subtly – assisted by a masonry technique called rustication, which will be subject of the next post in this space – different shades and hues.
A backdrop to this rock is a sand-colored tile roof.
Beautiful.
Again, stay tuned.  Next up discussed here will be "rustication."