Wedding Receptions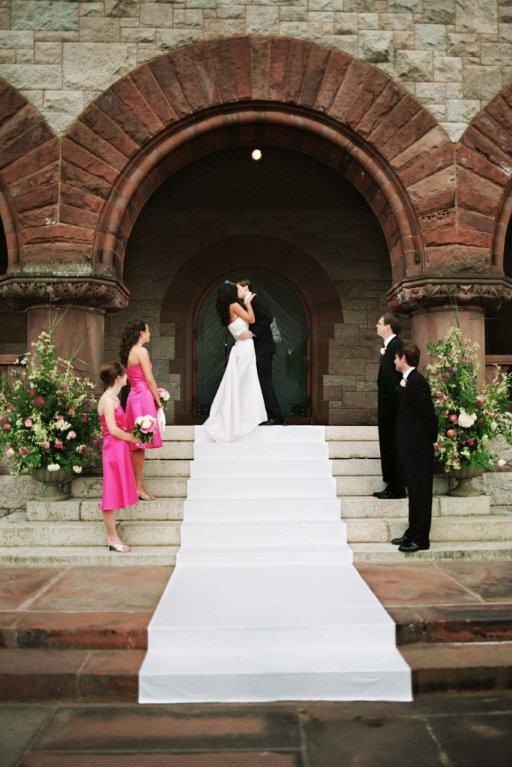 at Oakes Ames Memorial Hall are most elegant at our beautiful and historic location in North Easton, Massachusetts. Our facilities are truly unique and offer an intimate setting for your special day. The Oakes Ames Memorial Hall is in historic North Easton village conveniently located mid-way between Boston and Providence.
The Oakes Ames Memorial Hall can accommodate wedding receptions for up to 200 guests. Facilities include a professional stage with lighting, and performance quality acoustics, Wonderful soaring ceilings and leaded stained glass windows to make your wedding reception truly one-of-a-kind!
Designed by world-renowned architect H.H. Richardson in the late 1800s, the Hall is a National Historic Landmark District. The grounds and entrance stairway were designed by America's first and most famous landscape architect F.L. Olmsted.
When you choose Oakes Ames Memorial Hall, you'll enjoy the flexibility to customize your wedding reception. You can choose your own planner and caterer or select from our list. The Hall is equipped with a warming kitchen.
The Oakes Ames Memorial Hall isn't just for wedding receptions!
The Oakes Ames Memorial Hall can handle small intimate groups from 6 to 10 people to larger events up to 200 people and everything in between. The Parlor seats up 10 people with a comfortable drawing room atmosphere, while The Gallery can accommodate 90 people featuring period lighting and furnishings. The Great Hall décor includes soaring ceilings and leaded stained glass windows. Make Oakes Ames Memorial Hall the special place for your event.
Make Oakes Ames Memorial Hall the special place for your event.
Anniversaries
Art shows
Bar Mitzvahs
Birthday parties
Black tie events
Civic meetings
Corporate meetings and retreats
Dances
Gourmet dinners and wine tastings
Holiday parties
Musical and theatrical performances
Family reunions
Religious services
Receptions
Weddings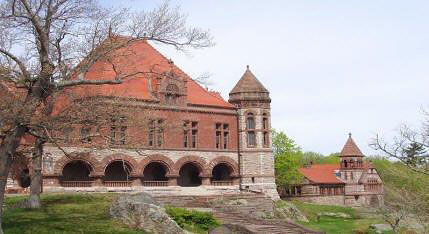 About Oakes Ames Memorial Hall
In 1879 the children of Oakes Ames commissioned the great American architect Henry Hobson Richardson to design the Memorial Hall as a tribute to their father. Richardson was the most influential architect of his time and is well known in Boston for his iconic Trinity Church. The Hall's rounded arches, dramatic roof lines, and heavy masonry adorned with medieval-inspired carvings are typical of the Richardsonian Romanesque style.  North Easton has four more H.H. Richardson buildings, including the Oliver Ames Free Library (in photo on right).
A powerful silhouette against the sky, the massive structure sits high above the street on granite outcropping with a commanding view of the surrounding historic district. The foremost landscape architect in the country Frederick Law Olmsted sited the building and designed the exterior grand staircase. The Memorial Hall nestles in natural surroundings of a remarkably well preserved 19th century Massachusetts mill village that is also famous for its American Renaissance masterworks by John Lafarge, Augustus Saint Gaudens, Stanford White, Louis Comfort Tiffany, and several Olmsted landscapes.
Oakes Ames Memorial Hall is conveniently located near the towns of Canton MA, Easton MA, Foxboro MA, Mansfield MA, Sharon MA, West Bridgewater MA, the Metro South MA and South Shore Ma areas.