Step back in time
In the late 1870s, the children of Oakes Ames commissioned the great American architect Henry Hobson Richardson to design the Memorial Hall as a tribute to their father. Richardson, the architect of Boston's beloved Trinity Church in Copley Square, responded with a picturesque masterpiece using his signature architectural elements of rounded arches, dramatic roof lines, and heavy masonry adorned with medieval-inspired carvings.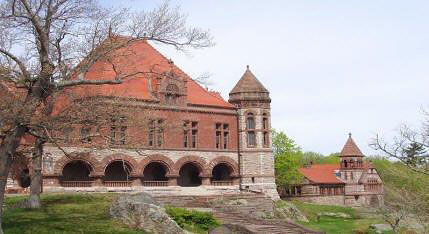 A powerful silhouette against the sky, the massive structure sits high above the street on granite outcropping with a commanding view of its surroundings. A romantic blending of architectural styles, the building represents what is known as Richardson Romanesque style. The Memorial Hall nestles in natural surroundings designed by famed landscape architect F.L. Olmsted, best known for New York's Central Park.
The town of Easton has the distinct honor of being home to five Richardson buildings, including the Ames Free Library situated next to the Hall. The Memorial Hall and the other Richardson buildings are located within a National Historic Landmark District.