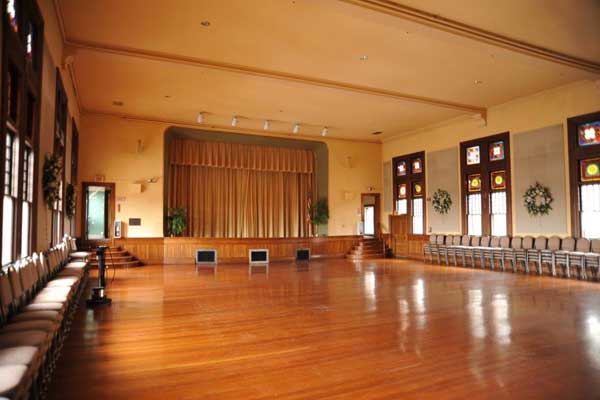 Oakes Ames Memorial Hall, located in the North Easton Village District within Easton, MA, is among the most magnificent buildings in America.
Oakes Ames Memorial Hall (OAMH) is a highly popular special events space.
The building (dedicated on 1881) and surrounding property were commissioned by the children of Congressman Oakes Ames (1804-1873), an industrialist, political leader, philanthropist, and the most important and instrumental figure in the building of the Union Pacific Railroad portion of the transcontinental railroad.
Designed by Henry Hobson "H.H." Richardson (1838-1886) – who, along with Frank Lloyd Wright and Louis Sullivan, constitute the "Trinity of American Architects" – the building sits on a land, and is approached by terraced steps, that are the creation and planning of Frederick Law "F.L." Olmsted  (1822-1903), the "Father of American Landscape Architecture."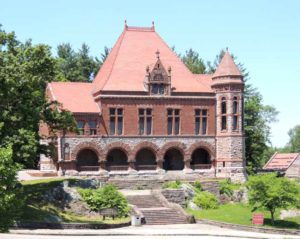 Oakes Ames Memorial Hall is a National Historic Landmark.  It is contained within the North Easton Historic District and H.H. Richardson Historic District, both listed in the National Register of Historic Places.
Architecture and design enthusiasts and students travel to North Easton from around the globe to study, to photograph, to paint, and to draw OAMH and other places in North Easton Village.
With spring here, and high school and college graduations soon upon us, we submit that now is the time to start planning graduation parties.
And just about the best place to hold a graduation party is Oakes Ames Memorial Hall.
OAMH has spaces within that work wonderfully for parties, whether it is one of the rooms, or multiple rooms, downstairs for small and intimate parties of 10 or up to 50 or so – or, for larger events, on the second floor of OAMH is the Great Hall, which can accommodate a little more than 200.
The Great Hall is an excellent place for music, with its stage and professional lighting and Bose engineered acoustics.  Of course, the Great Hall is a terrific venue for dancing.
In spring, with plants in bloom on the property, and with close in proximity so much other architectural and design splendor, OAMH and its surroundings are incarnate.
As near as across the street and full view of the hall is F.L. Olmsted's Memorial Cairn(commonly called "The Rockery"), an impressive fortress-like sweep and assembly of rocks, which in the warm months is wreathed and crowned with green and flowering beauty.
Next door to OAMH is Ames Free Library, also designed by H.H. Richardson.
It is all there, and more – at Oakes Ames Memorial Hall – for a memorable and fun and happy graduation party.
It is all there, at Oakes Ames Memorial Hall, to hold a party that will, in grand style, commemorate and congratulate achievement and serve as a send off to a next chapter in life.